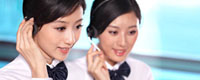 Name: Ms. Shen
Tel: +86-24-23214151
Fax: +86--23214151
Mobile: +86-138 4002 9143
E-mail: winstarmedical@163.com
Add: 15 Tonghua Road, Heping District, Shenyang City, Liaoning Province, China 110003
Skype: shen_hongqiu
MSN: hongqiu20023@hotmail.com
QQ: 247795003





WINSTAR CO., LTD.
Welcome to WinStar Co., Ltd. where we offer the most reasonable prices and the highest quality on all our products for your daily basis research.
Saving on every purchase from us is guaranteed. Our personnel is specialized and reliable.
Top quality and good service is our motto. All our products have been tested in the international market; our customers are satisfied and loyal to us for our low prices, top quality, customized service and technical support.
Thank you again for your next order.
[
More
]